Born 27 Oct 1858 in Bottenwil, Aargau, Switzerland to Elizabeth Sutter and Jacob Bachman. His death certificate lists him as a farmer. He died June 9, 1921 in the Provo Mental Hospital, Provo, UT.
1910 census:
1910 census:
1901 The Daily Tribune SLC Dec 4, 1901 Jacob Bachman Jr
1921 Ogden Standard Examiner June 10 1921 Jacob Jr dies
Emma: Jakob had a diease in childhood which left him deaf and dumb. There were no institutions in Utah to train deaf and dumb, so mentally he remained a child and was difficult to control. He died 9 June 1921
Emma: On Christmas day 1890, another sorrow came into Jakob's life. His son Alma died at the age of 24 years. All of Elizabetha's children were now married except Jakob Jr., who was deaf and dumb. As there were no institutions in Utah in that day to train the deaf mutes, he remained a child mentally. He helped Jakob on the farm.
Emma: I went to Provo with Elijah one day and saw Jacob who was in State Mental Hospital since
1901. He didn't live long after that, as he died June 9, 1921. He looked well when we saw him and smiled at me, but I doubt if he knew who I was after twenty years. His temple work was done in 1932.
SB- Jacob--born in Wiliberg, died at age 62 years 7.4 months in Eden, deaf mute, lived with his father and other families and buried next to his father.
Question: Was he a deaf mute and/or mentally retarded? or was he a deaf mute who could learn but people did not know how to work with him?
Ear infections
are diseases which can cause fluid or mucus to build up inside the ear. If pressure builds up inside the ear, the eardrum is less flexible than it should be. As the ear heals, the fluids drain out of the ear or are absorbed into the body. Some hearing may be lost during the infection; it may or may not return when the infection is healed.
Otosclerosis is a common cause of hearing loss. Although in the past people have thought that it was caused by diseases such as scarlet fever, measles, and ear infections, in fact these have nothing to do with its development. It is a hereditary disease in which portions of the middle ear or inner ear develop growths like bony sponges. The disease can be in the middle ear, the inner ear, or both places. When it spreads to the inner ear a sensorineural hearing impairment may develop. Once this develops, it is permanent. If it is in the stapes bone, in the middle ear, it can cause a conductive hearing loss. The amount of hearing loss depends on the amount of otosclerosis in the area.
Meningitis is an inflammation of the membrane(called the meninges) that surrounds the brain and the spinal column. Meningitis itself doesn't cause deafness, but since the brain is so close to the ears, sometimes the inflammation of the meninges can cause the inner ear to become inflamed also, and this can result in deafness.
Territorial Insane Asylum 1885:
The history of the treatment of mental illness paints a barbaric portrait, one people need to see to understand how far we've come. That's the objective behind an unusual museum that opened its doors today at the State Hospital in Provo.
It's hardly therapy! The Utica crib is pretty barbaric. Patients would be locked up inside for days, even months, at a time on the theory that induced or forced sleep or rest would cure the insane.
Back then the ornate but ominous looking building in Provo was called the Territorial Insane Asylum. Janina Chilton, a hospital historian, said, "They kept trying different things, a lot of it without any scientific background, actually, to try and find something that worked."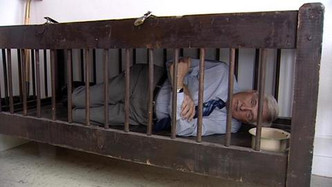 The brain is still the last frontier of medicine, but it was even more mysterious 100 years ago. Without pharmaceuticals, tranquilizing meant restraint. They'd lock or hold you down with all kinds of devices.

While shock therapy is somewhat sophisticated today, the old devices were torturous. Crude steel wool pads conducted jolts of electricity to the head. High doses of insulin were administered to throw patients into shock.
Some of the believed causes of mental illness included too much reading, litigation with a lawyer, jealousy, and overwork, to name a few.

Patients made keys from eating utensils in an effort to escape. Chilton says many of us simply don't realize how far we've come in defining mental illness and how to treat it. But still, she says, "We've made leaps and bounds, but we also like to point out that maybe 50 years from now, people maybe will be saying the same thing about how we treat mentally ill clients."

She hopes we'll make much more progress in the next 50 years, perhaps even find a cure for some forms of mental illness. The new museum is inside the historic Superintendent's Home at the State Hospital and is open Tuesday and Thursday from 9 a.m. until 5 p.m.


Utah State Hospital Museum
The Utah State Hospital Museum is located in two rooms in the historic Superintendents Home. The home is located on the hospital campus at 1300 East Center Street in Provo. It is the first building on the north side of the street as you enter the hospital.
The museum contains both photographs and artifacts that bring to life the hospital's history and the history of the treatment of mental illness over the past one hundred and twenty three years.
The goal of the museum is show how far treatment has progressed and to remind us that the history is still being written. These two small rooms contain a profound part of the history of the treatment of mental illness in Utah.
Museum hours are Tuesday and Thursday, 1-5 p.m. Group tours can be arranged for other times and days by calling, Janina Chilton, Historian at 801-344-4635 or Shawna Peterson, Volunteer Services Coordinator, 801-344-4254.
Provo museum is a window into treating mentally ill
Stuart Johnson, Deseret News
PROVO — Some aspects of the Utah State Hospital's history may be harsh, but a hospital museum opened Tuesday with the aim that the past shouldn't be forgotten.
The museum on the Provo campus tells the hospital's 120-year history through photos and artifacts displayed in two rooms at the historic Old Superintendent's Home. The building was constructed in 1934 out of materials collected while remodeling the old Utah State Insane Asylum building.
Hospital historian Janina Chilton said the museum idea got rolling when offices formerly housed in the Old Superintendent's Home moved into other facilities. She said the history of the hospital can't be neglected.
"Even though some of the things seen here are horrifying by today's standards, we can't forget the past," she said.
The museum's exhibit provides a window into the history of mental-health treatment. Visitors can see straitjackets and other restraint devices used during the last 100 years to control or restrain patients. A Utica crib, essentially an adult-size bed with bars and a lid, and a tranquilizer chair used to hold and sedate patients, provide vivid examples of how far mental-health treatment has progressed in the past 70 years. Both the crib and the chair were used to treat the manic aspect of bipolar disorder before experts understood the condition.
Chilton said implements and devices were used by staff at the hospital who thought they were doing their best for the patients. She said the hospital staff members weren't mean but merely followed the accepted mental-health practices of the time. However, she said, visitors to the museum should see history as it really was.
"The stigma's still alive and well," Chilton said. "(It's) still not popular to be mentally ill."
All of the items in the museum were used at some point at the Provo facility. Chilton said many of the items were collected over the years during various renovations and stored in a warehouse on the hospital property.
During one demolition and renovation, a large safe turned up, Chilton said. Inside, she found decades of historical records and photographs.
The hospital opened its doors in July 1885 and has been functioning ever since. In 1955, the hospital experienced an all-time high number of patients of 1,500. Just a few years later, mental-health treatment across the nation moved more toward community-based treatment, and the hospital's population dropped. Today, there are about 370 patients at the facility.
The museum is free and open to the public every Tuesday and Thursday from 9 a.m. to 5 p.m. Interested groups are welcome to call ahead to arrange another day for a visit.
---
Death
Emma Bachman Scholl had a brother named Jacob Bachman Jr. We are not sure what his condition was but he ended up in the Utah State Mental Hospital and died at the age of 60 on June 9, 1921 from general paralysis of insane.

Emma: I went to Provo with Elijah one day and saw Jacob who was in State Mental Hospital since 1901. He didn't live long after that, as he died June 9, 1921. He looked well when we saw him and smiled at me, but I doubt if he knew who I was after twenty years.

General paralysis of the insane or paralytic dementia, is a neuropsychiatric disorder affecting the brain and central nervous system, caused by syphilis infection. It was originally considered a psychiatric disorder when it was first scientifically identified around the nineteenth century, as the patient usually presented with psychotic symptoms of sudden and often dramatic onset. It is rare in most developed countries.

The diagnosis could be differentiated from other known psychoses by a characteristic abnormality in eye pupil reflexes (Argyll Robertson pupil), and, eventually, the development of muscular reflex abnormalities, seizures, memory impairment (dementia) and other signs of relatively pervasive neurocerebral deterioration. Eventually, the patient would become completely incapacitated, bedfast, and die, the process taking about three to five years on average.
Note: So it seems that Jacob Jr. died of syphillis. How much care and supervision did Jacob need in Eden? Was he a relatively independent farmer or was he never out of his parents' sight? Syphillis, maybe the result of a father either supporting trips to a brothel or lovingly looking the other way. It could have gone on for awhile-- Like HIV, I don't think you typically get syphillis the first time you have unsafe sex.
Research:
September 14, 2010 Wow, you're a natural at this. I think you and I were at BYU at the same time. Probably had some of the same professors. I did counseling practicum at the mental hospital, American Fork State Hospital, BYU lab school, State Employment Office, and State Prison. I had forgotten about the Provo Mental hospital until just now. I remember the "inmates" did paintings to sell, and I was fascinated with one of them, a painting of deer in the forest all in shades of blue, and being a poor students was unable to buy it. Would you mind finding that for me J? Steve September 14, 2010 Hi, I did a little research and found pictures of the mental hospital. I visited there when I got my Psych Degree from BYU back in the late 60s. Also it appears that there may be some records on people in the hospital found at the Utah State Archives and Research Center 300 So Rio Grande in SLC. I went there this summer to get info on the canon ball killing Anna's mother which seems to be a hard event to verify. I will go and see what I can find on Jacob Jr next summer. Kent