William was raised by his mother and stepfather: Annie Hegetchweiler and Jacob Bachman. He grew up in Eden, UT and later moved to Ogden where William was a railroad conductor. In retirement he rode his bike. He lived to be 86. He died 12 May 1952 in a bicycle/ car accident at 86 and is buried in Ogden.
William's father Samuel William Stone was born 8 Feb 1840 in Eastwood, Nottinghamshire, England and died 25 Dec 1920. Samuel marrried Anna Hegetschweiler on 4 Feb 1865 in the Endowment House, SLC. Their son William Henry was born 14 Sep 1865, Wilson, Weber, Ut. According to Anna, after William was born, Samuel drank and he was not kind to her. So she left him.
Emma Bachman Scholl's journal: After the death of her mother and sister Anna Hegetschweiler was taken care of by Mr. Burton. She was now all alone in Utah without relatives or friends. She worked in the home of Bishop Chauncey West and in other homes until she was seventeen. On February 4, 1865, Anna was married to Samuel Stone, who was born 8 February 1840 in Eastwood, Nottingham, England. They were married in Salt Lake City in the Endowment House by Elder Wilford Woodruff. Her first child,
William Henry Stone
, was born 14 September 1865 at Wilson Lane. Anna's life with Samuel Stone was unhappy and finally she left him, walking with the baby in her arms to Marriot where Theresa Marriot gave her a home.
Sometime later Anna went to Ogden Valley and while there she met Jakob Bachmann. They were both from Switzerland. Jakob's wife, Elisebetha, had died November 1866, leaving him with eight children. Ann had now obtained a divorce from Samuel Stone and on 27 April 1867, she was married to Jakob Bachmann in the Endowment House. Jakob was seventeen years older than she. Anna' son,
William Henry Stone
, was now nineteen months old. Jakob's children were Maria, thirteen, Vernena, ten; Jakob, eight, Elisabeth, seven Emuel, six, Rosella, three, Bertha, two and Alma six months. Alma had been given to Alma Taylor when three days old. Jakob and his children were living in a one-room log house in Eden, so Anna and her son,
William
, moved into the log cabin. There were bunks in the north end of the cabin where they all slept. The benches and stools were homemade. The house, with a cellar, was situated on a five acre-plot of ground. A schoolhouse, which was also used as a chapel, was later built on the adjoining land on the south. The winters were very cold, the thermometer sometimes being 40 degrees below zero and the snow covering the ground to a depth of six feet. They could raise no fruit except currants, berries, plums and a few apples and their vegetables often froze before maturity. The principal crops were alfalfa and wheat.
Anna had never been around other children in Switzerland as she had lived with her mother, grandparents and two aunts, so it was a new experience to be in a home with eight children. They endured many hardships and sometimes were molested by Indians. As soon as he could Jakob bought some cows and built a barn south of the house. He later bought a farm and raised some grain and alfalfa; then purchased a dry-land farm and pasture land about two miles southeast of his home. As time passed he had twenty cows and Anna worked hard doing all the necessary tasks required of her.
William married Luna Adele Candland 14 Sept 1889 in Mt. Pleasant, Utah. She died Dec 1920. They had four children:
1. William Archibald Stone b 1 Sep 1890 in Ogden, Ut, d 1973
children: Kenneth Howard Gray Stone b 13 Jun 1919, Ogden, Weber, Ut d 18 Sep 1925
2. Frank Stone 28 Nov 1891, Ogden, Ut, Loyd 5 May 1893, Ogden, Ut d. 1956 d 10 Aug 1956 Tooele, ut
children: Ralph John "Bud" Stone 11 Sep 1917 Chicago, Cook, Ill d 4 Dec 2006
3. Loyd Candland Stone b 5 May 1893, Ogden, Ut d unknown
children: none
4.
Lola Stone
b 1 May 1898, Ogden, Ut d. 1997 m David Amor Scott, d 15 Jan 1997 place unknown
children: Lue Scott, 13 Nov 1923, Ogden, Utah, d 19 Apr 2008
William married Kathryn Prudence Carlton 11 Sep 1925 and the marriage lasted about a year.
He married Ida Marie Wood Johnson 14 Dec 1928 in the SLC Temple. She outlived him by seven years.
Four generations
: Anna Hegetschweiler, William Henry Stone, William Archibald Stone, and Dorothy Stone:
William and Kathryn:
I had thought I had sent this to ou but looks like I didn't get the job done. Sorry. Lois was my mother, Edna, my grandmother and Kathryn my great-grandmother.
Edna was Kathryn's daughter by William Henry Pearson. D.
From Find A Grave:
Luna: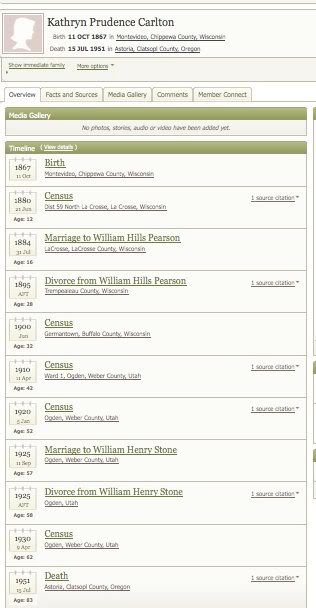 1910 U.S. Census: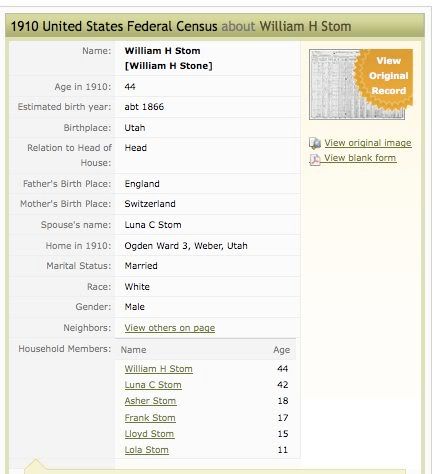 1920 U.S. Census: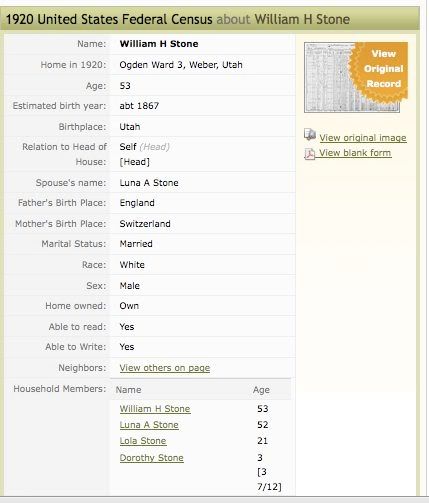 1892 April 10 Ogd Standard:
1899 Ogd Stand Oct 6 Wm. Stone injured
1903 May 22 Dead Letters, Wm Stone
1920 U.S. Census
:
1920 U.S. Census
lists William Henry as a Railroad Conductor, and the ancestry of Luna from Canada:
1940 census
:
Note: Motorman: The term refers to a person on a locomotive-hauled train when the train is being propelled by the locomotive. The driver is responsible for applying power in the locomotive, while the motorman (usually in a specially-built or converted vehicle) at the front of the train, is responsible for obeying signals, sounding the horn, and applying the brakes where necessary.


1952 SL Tribune May 14, 1952:
1952 SL Tribune May 15, 1952 William Stone William Dies:
My grandmother, Emma's mother's son, (not from Emma's father) The death certificate has his mother's last name spelled wrong which should be Hegetschweiler: Kent
William Henry Stone was killed in a bicycle/auto accident, May 12, 1952.
A cerebral laceration is a type of traumatic brain injury that occurs when the tissue of the brain is mechanically cut or torn.[1] The injury is similar to a cerebral contusion; however, according to their respective definitions, the pia-arachnoid membranes are torn over the site of injury in laceration and are not torn in contusion.[2][3] Lacerations require greater physical force to cause than contusions,[1] but the two types of injury are grouped together in the ICD-9 and ICD-10 classification systems.
William Henry is buried in the Ogden City Cemetery:
1959 Ogden Standard Examiner May 3, 1959 Ida Stone
1959 SL Tribune May 3, 1959:
Research: Hello Mr. Gardiner, Yes, Samuel William Stone was married to Hannah Rachel Stones in 1863. They were the parents of 8 children. They are my great-great grandparents. They were 2nd cousins, Hannah being the daughter of James Stones and Mary Milnes, who was the son of John Stones and Mary Maria Davison. John was a brother of William James and son of William and Elizabeth Lomax Stones. I will be happy to send you more information on them if you would like. Rose Scholes (Are you related by Anna Hegetechweiler?)