George Scholl
was born in 1886 in Falls City, Nebraska. He was a studio carpenter during the 1930's and 1940's. His sister Laura Scholl introduced him to a friend of hers, named Emma Bachman. He dated, fell in love with, and married Emma Bachman in 1915 in the Hollywood Ward Chapel of the LDS church. Audrey, his first daughter, was born in 1916.
In 1921 George bought a lot at 1636 Golden Gate Avenue for $2,000. He put up the framework of the house which took him seven years to complete. Elaine was born in the house in 1925. Later, after Elaine married, a dog who lived across the fence irritated George. To get the dog to stop barking he threw a clod at it because he couldn't sleep. The police were called and the judge sentenced him to two weeks in jail. This completely took him by surprise as he had left his car in a pay lot, and had to ask Elaine to retrieve the car. Jim and Elaine also had to visit him in jail where they wouldn't let him do anything.
George's full history by his daughter Audrey Scholl Kroksh
George
Was George Scholl religious as a youth?
When George changed the oil in his car he would drain the oil, pour in turpentine, run it a bit, and then replace the turpentine with regular oil, a drastic operation. George was a generous man who regularly showed up at Elaine's with carrot juice or fresh watermelon. George was a talented, thoughtful, kind grandfather. He died in Glendale at 81.
George Scholl was born in Arago, NE, in 1886 and died in Glendale, CA in 1967. James Gardiner said he never heard George say anything bad about anyone, and that included George's own wife Emma. This alone made him a saint since she took little interest in him, leaving him alone for months even years at a time to can fruit in Farmington, UT, do temple work in St. George and chase after her favorite daughter: Elaine. Here is a three minute tribute to George Scholl:
Birth certificate:
George at age 3 with little cap on outside his parent's home in Falls City, NB:
George as a toddler, 1889
Gus and George Scholl, 1906
George is back right, 1906
The home George was raised in, Falls City, NE. He is the infant in his Fanny's lap at the corner of the house.
1894
Postcard: George Scholl, Peru normal school glee club, Falls City, NE, about 1909
1910 census, George is a 23 year old carpenter boarder with his uncle

August Weinert

(his mother's brother):
George Scholl, Katherine, Laura, Fred V, 1912
Center back, George, Laura and Augustus Scholl, Falls City, NE, 1912 (Franklin Weinert born 1900)
George Scholl and two to the right is Laura.
Augustus and George Scholl, brothers.
This may be another George Scholl, more research needed:
1915 Emma and George dating photos:
1918 WWI draft registration:
George built this house at 624 N. Hobart Street, LA about 1918. He Sold it and bought the property on Golden Gate Avenue, LA.
George and his daughter Audrey, 1922
George, unknown, and Audrey, 1922
LtoR George, Elaine, Emma and Audrey in front of their 1636 Golden Gate home getting ready to go to Oregon, 1928
Ed Voegelein and George Scholl, right, Portland, OR, Frederick's home, 1928
For much more:

George Scholl
1910 census
1920 census
1930 census:
1940 census: George is a "studio carpenter."
Mirror frame made by George
2009 The house that George built:
The House that George Built
from
K
on
Vimeo
.
George like light coming in the back of the house:
George's cabinet 1636 Golden Gate Ave.
Nice detail, George:
Where did George get the inspiration for these unique cabinets?
Unique cabinetry in the home of George's father Frederick Scholl at 1819 Locust Street, Portland, OR. photo taken by Eric Gardiner, 2016




George liked woodworking in the garage and stored his wood in the attic. Does this remind you of George's father August Weinert's barn? He saw the barns August build as a child. After all August was his grandfather.
George's tools:
Here is the area he chose to live in:
Bethal Church, Falls City, NE Record of baptism of George Scholl:
Bethal Church, Falls City, NE
Original birth certificate:
Close up of George's birth certificate in german. Translation below:
George's voting record:
1916 builder 842 W 49th Street, LA, CA Republican
1922 carpenter Golden Gate, George and Emma registter as Republicans
1924 carpenter Golden Gate, George and Emma register as Republicans
1926 carpenter Golden Gate, George and Emma register as Republicans
1928 carpenter 345 Burchett, Glendale George registers as Democrat
1930 carpenter 332 Drew, Glendale, George and Emma registger as Republicans
1934 Emma 822 Fischer, Glendale DS, George 605 Lincoln, Democrat
1936 carpenter521 W Milford, Glendale, Emma Republican, George Democrat
1942 carpenter Golden Gate, George Democrat
1946 carpenterGolden Gate Emma Republican, George Democrat
1948 carpenter Golden Gate, George Democrat
1954 carpenter. Emma Republican, George Democrat
George's headstone:
1900 Federal Census with George as a child:
Marriage Certificate:
1920 Federal Census:
1930 census close up:
1940 census:
George's death:
George Scholl died from bronchopneumonia (rt lobar), lymphatic, 3 days due to cerebral thrombosis (4th stroke), 5 days due to generalized, arteriolosclerosis, years, due to diabetes mellitus. Put another way the diabetes caused a stroke which caused pneumonia.
Bronchopneumonia is an acute or chronic inflammation of the lungs, in which the alveoli and / or interstitial are affected. Pneumonias are the most common cause of death among infectious diseases. They take the fifth place in the statistics of diseases causing death.
More formal copy of death certificate: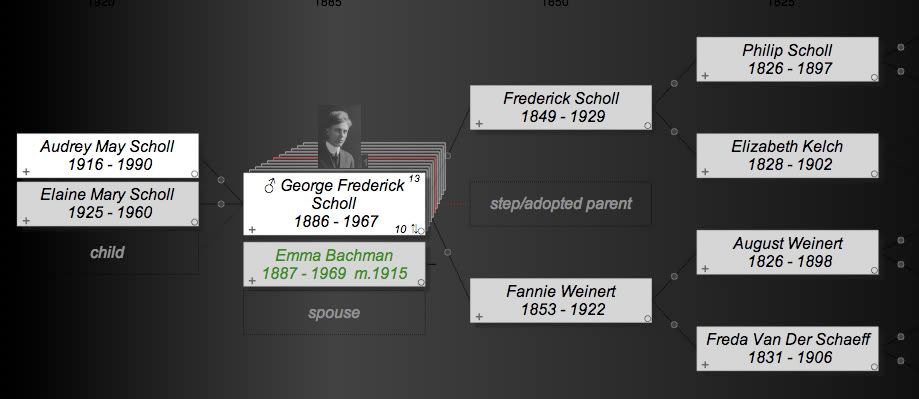 Research:
Kent,
I spent the evening going through all the videos, pictures and your articles. You did a wonderful job. I'm sure you had a great time with Paul, he is so special. You saw things I have not seen there. The first house that August built (that is the one you walked through) is in worse shape since I was there in 2004, and it was pretty bad then. I don't remember seeing the sky from the 2nd floor roof! The 2nd floor railing was not there then. I don't remember if the floor was there in the narrow walk way. I remember it was scary getting to the back bedroom.
I did find a few discrepancies, however some may be my own understanding and maybe not true.
1. Under the George Scholl write up, you said that Emma Scholl was the one who introduced George (your grandfather) to Emma Bachmann. I thought it was Laura Scholl who was a friend of Emma B. In one place you did mention Laura Scholl was a friend to Emma B.
2. Under Frederick Scholl, you mentioned that he saw the remains of President Lincoln when the White House was in New York. The White House was never in New York. The original booklet that Beth put together that I made a copy for you said that the White House was in New York. I have noted in my booklet that the Lincoln Funeral train stopped in New York in 1865 on the way to Springfield, Ill. I don't know if your copy got that correction.
3. You have that August was born in Roessel. I don't think that is true but I think Beth, Marji and maybe others think it is Roessel. I think it is because the letter that Ann, August's mother wrote to him when he was in Nebraska indicates she is in Roessel then. When your Grandmother Emma or Aunt Audrey did their research, they have that August was born in Festenberg, Silesia, Prussia, which is now Twardogora, Poland. Last year I paid someone in Germany to find out where August was born, and I gave her both places Festenberg and Roessel. Her research has that he was born in Festenberg same as your grandmother or aunt had. However she gave me no copies of records, just a pedigree chart. You can do what you want to do there as I don't want to create waves.
4. You have that Fredericka was born in Amsterdam but it should be Dokkum, Friesland, Holland/Netherlands. Just to be specific, Fredericka was buried in Zion Cemetery in Falls City.
5. Under August, towards the bottom you have an 1880 census and then show a close up of it, however the 1880 census has son John as 20 years old. The close up of the 1880 census has John as 8 months old and he was born in 1859 so I think the close up census is 1860.
That's all I saw that I noticed a discrepancy. Check them out, you may or may not agree with me and that is ok. You have put a lot of work into your blog which is wonderful.
M
Hi. We have the Falls City Journal on microfilm dating back to 1869. Based on your query, I presume that you need issues from the 1880s-1900. Here is the reel breakdown for those years:
Reel 4: Sept. 21, 1878 – Jan. 7, 1882 (missing Oct. 15, 1879; Aug. 14, 1880; Jan. 22, 1881)
Reel 5: Jan. 14, 1882 – July 2, 1886 (missing all of 1884; Mar. 20, Sept. 11, 18, 25, Oct. 16, and Dec. 25, 1885)
Reel 6: July 9,1886 – Sept. 28, 1888 (missing Sept. 24 and Nov. 4, 1886; Nov. 15, 1887; Jan. 20, Feb. 24, Apr. 20, May 18, July 29, July 13, 20, and
Aug. 3, 10, 17, and 24, 1888)
Reel 7: Oct. 5, 1888 – Oct. 23, 1891 (missing Jun 14 and Nov. 1, 1889)
Reel 8: Oct. 30, 1891 0 Nov. 2, 1894 (missing Feb. 17, 1893)
Reel 9: Nov. 9, 1894 – Dec. 3, 1897
Reel 10: Dec. 10, 1897 – Dec. 14, 1900
These reels are available through your university library's interlibrary loan program. Cost is $10/reel. Additional information about our interlibrary loan policies/procedures can be found at http://nebraskahistory.org/lib-arch/services/refrence/loans.htm.
I hope that this information is helpful.
Andrea Faling
Library/Archives
Kent and Mark,
Paul Weinert called me Saturday evening. I think since he knew Kent was going to Falls City in August, he better look for Anna (Scholl) Bingaman and Clara Scholl's graves. He did find them (not together) and they do have small head stones, about 6" X 14". Last year he had looked in the wrong place, which is the reason he found no head stone then. I told him that Kent would have to take pictures of them. He said Anna's plot was owned by Maurice Bingaman, her husband. Clara's plot was owned by the Ebel family. Never heard of them.
He said the church records were piece meal. Some records had been moved to another place for safe keeping, I think he said to a nearby town, however they had a flood so more records lost.
Paul said the library in Falls City is a good one and has the old newspapers on microfilm so you don't need to go to Lincoln as in your email today.
I told him Kent would have to take a picture of the musket, his response was, well I better clean it up.
Another interesting thing he told me, I knew August, Fredericka and family first lived in a dugout and then he built the house that the picture is in the back of the calendar. He said, August built the house on top of the dugout. Also August bought 6 lots in Arago before they left Buffalo.
Kent, I will review your other email about the Scholl family and original records when I have more time. We still have the two German foreign exchange students with us until this Saturday. Hopefully they find another place for them to stay since we are going on vacation next Tuesday for about 10 days.
Margie
2009
Kent,
I just want to be clear on what you're wanting, etc. In looking at your email, "Subject: Scholl line", where you have Frederick and Fannie marriage and death information and then each one of their children, on some you have a date, i.e. day, month and year and on others you just have the year. Such as you have Frederick born 1849 which is actually 16 Feb 1849. Do you have the day and month information on the ones with just the year? Is this your work sheet for looking up newspaper articles in Falls City? Most of the information I have is from the "Family Group Records" that I received from your Aunt Audrey. I have run across a few discrepancies in the birth year of Frederick and Fannie's children. Since I was trying to track down all the living Scholl line for the 2005 Reunion, I started by getting Death Certificates and obituaries to try to find other family members.
Where you have "descendents", are you wanting the living descendents or their children and grandchildren etc?
About 3 days after our German girls leave, we are going to Oregon and Washington for 10 days and then home about 3 days and leave for New Mexico for about 10 days. So I will do what I can when time is available.
Margie
The attached document was written by Opal (Siewert) (Hornschuch) Zielinski (whom you met at the 2005 reunion in Portland) about her in-laws, Emil and Emma (Scholl) Hornschuch. This was in one of the two books we did not have time to go through.
Margie