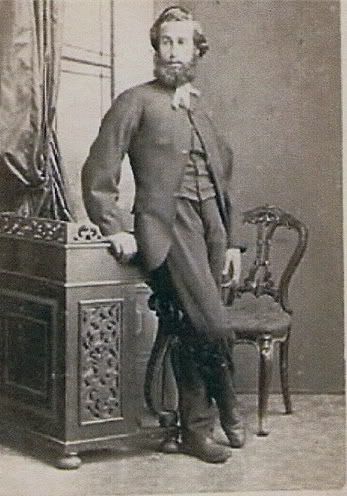 William's Father and mother:
Birth:
CULROSS, a royal burgh and a
, in the county of Perth, 7 miles (W.) from Dunfermline, and 21 (W. N. W.) from Edinburgh; containing the villages of Blairburn and Lowvalley-field. This place, which is of remote antiquity, derives its name from its situation in a detached portion of the county, forming part of the peninsula of Fifeshire. The town, which is situated on the north shore of the Frith of Forth. The parish formerly included the barony of Kincardine, which was separated from it in 1672, and added to the parish of Tulliallan. The church is a portion of the ancient abbey, originally a venerable cruciform structure, with a lofty tower rising from the centre, which, with the choir now appropriated as the parish church, and containing 700 sittings.
[1]
1881 census:
1880 census:
Elizabeth Stewart Rae
Salt Lake Herald, 1881-05-14
William and Alexander Rae lived in Provo in 1899 and were noted in a list by the state legislature as being on the military honor rolls.
Emily Brown Bullock:
Effie, Lucille, Electa, Irene, Elsie, Helen, Velma, Mary Dewey, Ardell, Owen, Earl, Bert Rae, Gideon, Dewey, Alan Bullock
This is what I've found on Wm. C. Rae and his first wife, nothing more on George and Jane Elizabeth Rae. Alexander died, never married, that I could find. William married Emily Bullock, but they never had any children. This is what I found on William and Emily. Jane Elizabeth Rae probably reared by some one else too.
George Coreman Rae 1870 –
Jane Elizabeth Rae 1873 –
William Rae 1877 – 1918
Alexander Rae 1879 – 1919
Excerpted from A Geneology of James Bullock and Mary Hill Latter Day Saint Pioneers by Kenneth C. Bullock
William was the oldest of 4 children. His mother died when he was a child. He was reared by Myron Newell, and spent his youth working on a farm in Vineyard, Utah. He received a limited education and attended the Brigham Young Academy for a short period.
When William was of age, he joined the Spanish American War, and served as a private. Upon his return home he went to Los Angeles, CA where he worked as a street car conductor. He married Emily Brown Bullock at Provo, Utah and was later sealed in the Salt Lake Temple. In 1918 William took ill with Influenza and soon died. He was buried at the Pleasant Grove Cemetery.
"Emily was born on Locust Avenue in Pleasant Grove, where she spent most of her life. she was quite ill as an infant, and required considerable care. She attended the schools at Pleasant Grove, and completed the Fifth Reader. At home she learned to help with the housework and with the farm work. When Emily was twenty years of age, she attended the Brigham Young Academy for a short period of time.
As a young lady she went to Provo to care for a relative. While working in Provo she met William Rae. They courted, and were married in Provo in 1910. shortly afterward they moved to California, and resided in Los Angeles, where her husband worked as a street car conductor. In 1918, her husband suddenly took ill and died of influenza. This was a great shock to Emily, who sorrowed for some time afterward. She returned to her parents home on Locust Avenue. She helped care for her parents in their declining years, and stayed faithfully by their sides until their deaths.
Because Emily had no children of her own, she devoted much of her time to others. Her sister became bedfast, and was brought to Emily for care. Emily nursed her sister for seventeen years, until she died in 1943. When Emily's brother, James Orson Jr. and wife both died, their sixteen year old son, Kayle, came to live with his Aunt Emily. Emily loved and treated him as her own son. Kayle remained with her until he married.
Emily loved all children and was friendly with all that came to her place. She would joke with the children, and usually gave them a cookie or other goodie or an apple. In 1954 she sold her property to the Pleasant Grove School District as part of the site for the new high school. She had a new brick home built upon her sister Jennett's property, where she resided until her death."
This is an excerpt from the book A Geneology of James Bullock and Mary Hill Latter Day Saint Pioneers by Kenneth C. Bullock
William descends from Albert (above) and Lucile Bullock, son of William Cumming Rae and Jane Gardiner.
I've seen Sara Wilkins family tree, but she has it kinda messed up, I haven't attemted to correct her. You might try contacting some of the people mentioned in the obit.
Mary
Obituary
William Bullock Rae, 94, of Orange, California, passed away on April 30, 2011. Survived by wife Helen, son William (Caroline) Rae, daughters Sara (Corman) Wilkins, Alta (Dennis) Costa, sister Beth Feller, 5 grandchildren, 5 great-grandchildren, and many nieces and nephews. Graveside Service with Military Honors presented by the United States Navy, Thursday, 11:00 am, May 5, 2011, Forest Lawn Memorial Park, Glendale, Californto correctia. William will be missed by many and be forever in our hearts.
Hello
received your message re: William & Elizabeth Rae. From what I can see, William Rae, son of William C Rae & Elizabeth(nee Stewart) , 1876-1918 married Emily Brown Bullock, 1876-1960, daughter of James Orson Bullock who was my husband's gr. grandfather. We have extensive info on the Bullock line. Let me know if you are interested. Good to hear from you
I only have info on William Rae, son of William C. & Elizabeth Stewart. I did trace his brother, Alexander Rae, but did not find evidence of a wife or children. I have not yet found anything on the other children of this couple. i.e. George Coreman b. about 1868, Jane Elizabeth, b. abt. 1870 & Nicholas b. 1872. I am in NJ and still recovering from Irene so as soon as things calm a bit i will get out the Bullock book and make your scan....Good luck hunting..
January 17, 2010
All I know is, William Rae was a brother to Jane Rae Craig, Jane married Charles Crabb Craig 25 Aug 1865, Dundee Scotland, Jane's parent were William Rae and Jane/Jean Cumming, William being deceased at time of marriage.
Jane Rae and Charles Craig had a daughter Charlotte born in Scotland, who married John Lovelady in Utah. They had a dau Sylvia Lovelady who was my mother in law, Sylvia Kinney.
Sylvia always talked about her family, we have a little rocking chair she claimed came around the horn of So America, took un till a couple a years ago, when my dau visited Ellis Island, she brought back a pamphlet on
www.castlegardens.org That where I found their passage from Scotland.
Charles Craig came first, then his family. I had no idea that Agnes Crabb and Jane Cumming Rae also came with the family, un till I stared searching the census and cemeteries in Utah.
I'm sending an attachment of the marriage of Jane and Charles Craig.
Hope I've helped you in your search, I can invite you to my Smith/Kinney Klan page if you wish, there is pictures.
Mary Kinney
P.S. do you think the C. in William's name is Cumming ?
There are likely many descendants of William and Elizabeth Rae. Elizabeth died when my grandfather Albert Edward Rae was small. He was shuffled around among family members and friends. We are still trying to find where the other children went and what has become of their families. Of the descendants of Albert, my father has the largest posterity with now 60-70 individuals. Among his brothers and sisters there are 10 to 15 descendants. They are spread out throughout the US, most in the Wyoming, Idaho, Utah area, but others in California, Oregon, Washington, Arizona, Missouri and a few in Florida.
Owen
THE ATTACHMENT IS THE CERTIFIED CERTIFICATE OF JANE RAE'S MARRIAGE TO CHARLES CRABB CRAIG. IT GIVES HER MOTHER AS AGNES " CUMMING " RAE AND HER FATHER WILLIAM RAE, NOT ALEXANDER. WILLIAM CUMMING RAE WAS JANE'S BROTHER.
ENJOYED YOUR FAMILY RESEARCH PAGE. THANK YOU
MARY